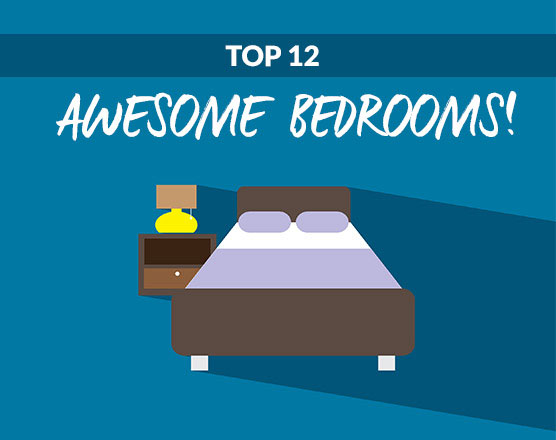 The bedroom is one of the most important rooms in the house. It is the one room that you can really stamp your personality on and make it as personal as possible. The bedroom is considered the place to go for some serenity & to get some peace and quiet after a long day at work. So if you're going to be spending a lot of time in your bedroom, it is vital that it is designed perfectly for your needs.
Here are 12 totally awesome bedrooms that will blow your mind and make you just a tad bit jealous as well.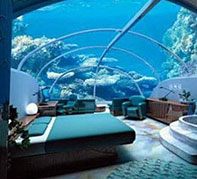 Everyone's heard of sleeping under the stars, well now you can sleep under the sea! This luxurious hotel room is located on the seabed and providess unrivaled views of crystal clear ocean water, beautiful coral reefs and some rather wonderful sea life – and the bedroom isn't bad either.
If you're a comic book & Batman fan then this is the bedroom for you. Spend your nights sleeping comfortably on the bat-bed (I bet it has a memory foam mattress), relax on the batmobile seats and look out over Gotham.
A lovely refreshing swim first thing in the morning is great, as is a night-time swim. The only thing about those activities is getting to a pool. But if you had this lavish bedroom you could literally roll out of bed and you'd be swimming.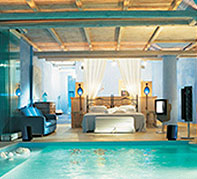 This bedroom really does have everything you need. A lovely soft bed equipped with a comfy pocket sprung mattress, a relaxing area with a TV and sofa and as you've probably noticed a beautiful blue swimming pool, which is perfect for those early morning lengths.
High-tech gadgets, funky furniture design and an amazing view, what more could you want from you bedroom. Imagine waking up to that ocean view every morning and being able to fold your TV away into the roof when it's time for sleep.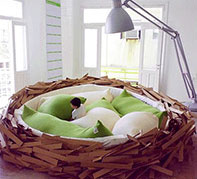 Ever had that recurring dream where you are a baby bird in a nest, high in the trees? Well you can now sleep in your very own life-size bird nest, equipped with soft egg shaped pillows and an enormous overhead light.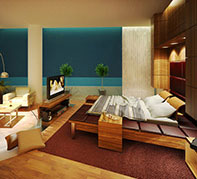 It is often said the simpler the better, and this room definitely proves this. The beautiful wooden look and soft furnishing compliment each other perfectly. The relaxation area separate from the bed also adds an aura of peace and serenity.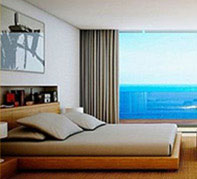 Nothing sends you off to sleep quicker than the sound of crashing waves. While some people have to make do with a CD, whoever sleeps in this bedroom has the real thing right outside their window. And they have something spectacular to look at during the day light hours as well.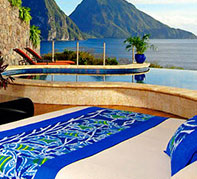 When you look at this photograph, you can't but feel jealous of the person who wakes up every morning on the perfect mattress and rolls over to see their idyllic swimming pool, the glistening ocean and some island mountains!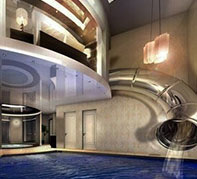 No matter how old you are, you will always love a slide, especially one that drops you into your own personal swimming pool. This bedroom is modern, super-sleek & pulls of minimalism perfectly. And look in the left corner, there is the slide that drops you into the pool below – now that is super cool!
When you were growing up, how much did you wish for a den to hang out in? Well this awesome bedroom has some super comfy beds. But it also has a balcony den above, where you can relax and hold any secretive meetings.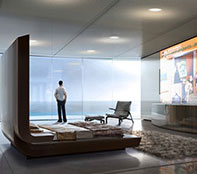 This is perhaps the ultimate bedroom – it belongs to Tony Stark AKA Iron Man! This bedroom really does scream 'Genius. Billionaire. Playboy. Philanthropist'. It's packed full of gadgets and a rather amazing bed.